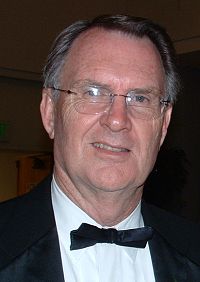 © 2006 Dave Bachle
Instrumental musicians who graduated from Long Beach, California's Millikan High School from 1969 into the mid-1970s gathered in the Long Beach area in early May 2006 to honor Roger Johnson upon his retirement from teaching music and conducting. Roger Johnson conducted Millikan High School's bands beginning in the fall of 1968 and conducted its orchestra during the 1968-1969 school year. He then taught and conducted at Long Beach City College from 1980 to 2006.
The central event of our gathering was our attendance at the Community Orchestra of Long Beach City College Spring Concert on Sunday, May 7, 2006. This was the last concert that Roger Johnson will conduct.
For additional information about our gathering, please visit the other pages of this Web site.