Yosemite FAQs
Here are answers to some of the most frequently-asked questions (FAQs) about Yosemite National Park. This page is designed to help people locate those last few fugitive bits of information as they plan their travels to Yosemite.
I have only one day to spend in Yosemite. What should I do?
Most people in this situation should spend that day in Yosemite Valley. Here are suggested lists of activities for a b of only one day or even just a few hours:
How long does the park stay open?
Yosemite National Park is open 24 hours a day, 365 days a year. The entrance stations are not staffed 24 hours a day; if an entrance station is not staffed, you can drive in. (If you do not pay the entrance fee or show your pass when you arrive because the entrance station is not staffed, you will do that when you leave.)
How much does it cost to enter, and do I need a reservation to enter?
No reservation is needed, or can be made, to enter Yosemite National Park. Your entrance fee allows you to visit Yosemite for seven consecutive days, leaving and re-entering as you wish. You can instead use a Yosemite Pass, National Parks Pass, Golden Age Passport, or Golden Access Passport to enter. (The Golden Passports provide special rates for certain seniors and certain disabled persons.) Yosemite's Web site has information about entrance fees, Passes, and Passports.
How is the word "Yosemite" pronounced?
The word "Yosemite" is pronounced "Yo-SEH-muh-tee". It has four syllables, and the accent is on the second syllable. [ Refer to Dictionary.com to hear the pronunciation. ]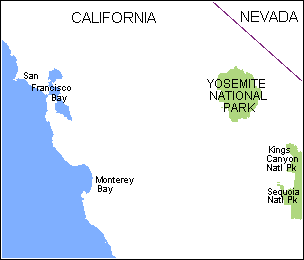 Where is Yosemite National Park?
In east-central California, south of Lake Tahoe, and east of the San Francisco Bay Area. See the adjacent map.
How big is Yosemite National Park?
As of 2010, the land area of Yosemite National Park is approximately 747,956 acres, or about 1,169 square miles or 303,000 hectares. The vast bulk of this area can be visited only on foot or horseback by means of overnight wilderness travel, but there is still plenty to see within a short distance of your vehicle.
How big is Yosemite Valley?
Yosemite Valley, the location of the vast majority of visitor use, occupies about 7 square miles, or about 4,500 acres or 1,800 hectares, less than one percent of Yosemite's land area.
How many people visit Yosemite National Park each year?
During the last few years, between 3.4 million and 4.1 million people have visited Yosemite National Park each year. Visitation in 2010 was 4,047,880 persons.
Where can I find maps of Yosemite National Park and Yosemite Valley?
The National Park Service has good general-purpose maps of Yosemite National Park and Yosemite Valley on its Web site.
Are there live Webcams in Yosemite National Park?
The nonprofit Yosemite Conservancy runs several Webcams in Yosemite Valley and one near Glacier Point. See the recent images and links on its Webcams page.
Where are the waterfalls?
Some of the most famous falls drop right into Yosemite Valley, and others are nearby. The most prominent falls in the Yosemite Valley vicinity are Yosemite, Bridalveil, Vernal, Nevada, and Illilouette. Yosemite Falls (a series of three waterfalls) and Bridalveil Fall drop to the Valley floor. They are at their best in the spring, and some dry up completely by mid-summer or late summer, depending on weather conditions the previous winter and spring. Yosemite's Web site has more information.
Where are Half Dome and El Capitan?
They form parts of the walls of Yosemite Valley and can be seen from the Valley, from Glacier Point, and from other points in Yosemite.
How can I get to the top of Half Dome?
This requires a permit and either a very long day hike or an overnight backpack trip. A permit is required to hike to Half Dome seven days per week when the cables are up. The cables that assist hikers up the last 900 feet (274 m) along the side of Half Dome are in position only from late May through early October; ascending Half Dome when the cables are not in position is dangerous and strongly discouraged. Yosemite's Web site has more information about ascending Half Dome. An easier option for a great view of Yosemite Valley from above, during late spring through mid-autumn, is to drive, hike, or take a bus tour to Glacier Point.
Were some Yosemite locations renamed recently?
Yes. The Majestic Yosemite Hotel was previously named the Ahwahnee. Yosemite Valley Lodge was Yosemite Lodge at the Falls. Half Dome Village was Curry Village. Big Trees Lodge was the Wawona Hotel. Yosemite Ski and Snowboard Area was Badger Pass Ski Area. The renaming is due to a legal dispute between the National Park Service and the previous concessionaire.
What should I know about Yosemite's bears? Why are they breaking into vehicles?
Yosemite's Web site has information about Yosemite's black bears and about required storage procedures for food and anything else with a scent.
Where is Tuolumne Meadows, and how is "Tuolumne" pronounced?
Tuolumne Meadows is on the Tioga Road in eastern Yosemite National Park, a few miles west of the Tioga Pass entrance station. See Tioga Road, Tuolumne Meadows, and the High Country for more information. The word "Tuolumne" is pronounced "too-AH-lum-ee". It has four syllables, the accent is on the second syllable, and the "n" is silent. [ Refer to Dictionary.com to hear the pronunciation. ]
Where are the giant sequoias, redwoods, or big trees?
There are three major groves of giant sequoias in Yosemite National Park: the Mariposa, Tuolumne, and Merced Groves. See Giant Sequoia Groves for more information.
Where is the drive-through Wawona Tunnel Tree?
The Wawona Tunnel Tree, in Mariposa Grove, fell down during the winter of 1968-69. There is a walk-through giant sequoia tunnel tree in Yosemite, the California Tunnel Tree in Mariposa Grove. Visitors to Sequoia National Park, south of Yosemite, can drive through the Tunnel Log, a fallen giant sequoia.
Can I therefore no longer drive through the Wawona Tunnel?
Don't be confused! The Wawona Tunnel is something else entirely, and it still exists. It is not at Wawona, nor is it in Mariposa Grove, where the fallen Wawona Tunnel Tree lies. The Wawona Tunnel is a highway tunnel, 4,230 feet (1.3km) in length, bored through rock and completed in 1933, through which Highway 41 enters Yosemite Valley. At the tunnel's eastern end (above the west end of Yosemite Valley) is Discovery View, also called Tunnel View, one of the grandest and most famous views of Yosemite Valley.
May I bring my dog or other pet with me to Yosemite?
Yes, but there are restrictions on where pets can go (service animals are excepted). Pets must not be left unattended, and they must be on leash not exceeding six feet in length. A kennel is available in Yosemite Valley from Memorial Day (in late May) through Labor Day (in early September). Most of Yosemite's campgrounds permit pets. Pets are not permitted in lodgings inside the park, but some providers of lodgings outside the park may permit them. For more information, see the pages about pets on the Yosemite National Park Web site.
Is Yosemite National Forest the same as Yosemite National Park?
"Yosemite National Forest" does not exist. Yosemite National Park is almost entirely surrounded by national forests, which are managed by a different department of the federal government: Stanislaus National Forest, to the north and west; Sierra National Forest, to the west and south; and Inyo National Forest, to the east.
Where and when can the Firefall be seen?
The term "firefall" is now being used to describe two phenomena in Yosemite, one man-made and discontinued, and one natural and ongoing. At one time, employees built wood fires at Glacier Point above Curry VillageHalf Dome Village, let them burn down to embers, then pushed the embers over the edge for the enjoyment of park visitors in Yosemite Valley below. The last such "firefall" was in January 1968. Learn more about that spectacle here. More recently, the term "firefall" is being used to describe a natural phenomenon that may be visible for short periods each year. If conditions are right, the setting sun will illuminate Horsetail Fall with red light, resembling fire. Learn more about the firefall at Horsetail Fall here.
Wasn't there a major flood in Yosemite recently?
The great flood of January 1 - 3, 1997 flooded Yosemite Valley and elsewhere in the Merced River canyon, causing significant damage to roads, buildings, campgrounds, and utilities, and closing the Valley to visitors for about 11 weeks. High-water marks from that flood are posted at various places in Yosemite Valley for visitors to admire. There was also some minor flooding in Yosemite Valley on May 16, 2005.
Are there paid and volunteer jobs available in Yosemite National Park?
Yosemite National Park has information about paid and volunteer employment on its Web site. There you will find information about working for the National Park Service (in the federal government); Yosemite Hospitality LLC, a subsidiary of Aramark, the primary concessioner; Yosemite Conservancy; Yosemite Institute; and the Ansel Adams Gallery.
If you can't find the information or the answer to the question about Yosemite that you're looking for by using this FAQs page or by using the Search tool at the bottom of this page, please tell me about it!