Lodging in and near Yosemite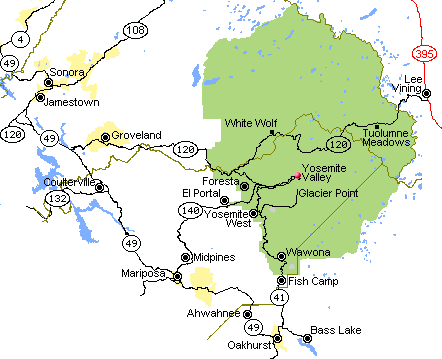 Visitors to Yosemite National Park can choose from a wide variety of lodging accommodations within Yosemite National Park and near Yosemite National Park. Yosemite's concessioner offers accommodations in Yosemite Valley and elsewhere in the park, and commercial lodging operators and private parties offer nearby hotels, motels, bed & breakfast accommodations, inns, condominiums, lodges, cabins, and similar facilities.
Lodging accommodations within Yosemite National Park are provided by Yosemite Hospitality LLC, a subsidiary of Aramark, an authorized concessioner of the National Park Service. The AhwahneeMajestic Yosemite Hotel, Yosemite Lodge at the FallsYosemite Valley Lodge, Curry VillageHalf Dome Village, and Housekeeping Camp are available within Yosemite Valley. Elsewhere in Yosemite National Park are the Wawona HotelBig Trees Lodge, White Wolf Lodge, Tuolumne Meadows Lodge, and the High Sierra Camps.
Lodging accommodations near Yosemite National Park are available in many towns outside Yosemite National Park's borders (and on some private property within the borders).
If you plan to sleep in a tent or RV that you are bringing with you, you will be camping. For information about camping, see Camping in and near Yosemite.
Search for lodging by name
If you're looking for accommodations by name, but you don't know whether they are within or near Yosemite, which community they are in, or which highway they are on, try this search box to search this Guide to Yosemite National Park.