Lodging near Yosemite National Park
Lodging accommodations for visitors to Yosemite National Park are available in many nearby towns outside the park's borders, and on some parcels of private property surrounded by the park. Commercial lodging operators and private parties offer hotels, motels, bed and breakfast accommodations, inns, condominiums, lodges, cabins, and similar facilities.
For accommodations within the park, see Lodging within Yosemite National Park. If you plan to sleep in a tent or RV that you are bringing with you, you will be camping. For camping in and near the park, see Camping in and near Yosemite.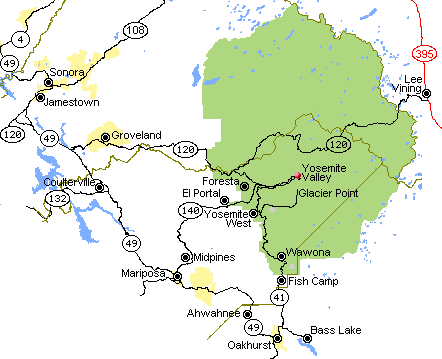 Communities and highways near Yosemite with available lodging
Go to lodging listings for Ahwahnee | Bass Lake | Coulterville | El Portal | Fish Camp | Foresta | Groveland | Jamestown | Lee Vining | Mariposa | Midpines | Oakhurst | Sonora | Wawona | Yosemite West
Go to lodging listings for Highway CA-120 west of Yosemite | Highway CA-41 within and south of Yosemite | Highway CA-49 west and south of Yosemite | Highway CA-140 southwest of Yosemite | Highways CA-120 and US-395 east of Yosemite
Search for lodging by name
If you're looking for accommodations by name, but you don't know whether they are within or near Yosemite, which community they are in, or which highway they are on, try this search box to search this Guide to Yosemite National Park.
Notes
It is currently Thursday at 12:44 pm (Pacific Time) in Yosemite National Park and vicinity.
Accommodations listed in these pages include local government information centers and commercial lodging establishments and their telephone numbers. I compiled these pages from publicly-available sources and from my own research. These pages are not comprehensive, and my listing of a lodging establishment does not imply that I endorse it. I have received no compensation of any kind in consideration for inclusion of any listing. (I may receive compensation from advertisements, which are clearly marked as such.)