Lodging
Available lodging accommodations in the Mammoth Lakes area include hotel, motel, lodge, inn, B&B (bed and breakfast establishment) rooms, and many condominium ("condo") units that are made available to the short-term rental market by their owners. Some of the condo units are marketed by the managers of the condo complexes in which they are located; others are marketed by independent "reservation services" that may have properties available in a variety of condo complexes; still others may be marketed by the owners themselves, often in classified newspaper ads.
In the Mammoth Lakes area, lodging prices are higher in the winter than in the summer. Local room tax will probably not be included in the rate you are quoted.
Here is a list of hotels, motels, inns, lodges, and bed & breakfast (B&B) accommodations in Mammoth Lakes. (For condominiums ("condos"), see Other Lodging Lists and Lodging Reservation Services.) In most cases there is also a link to a map locating the property, and in others you can refer to the area map on this page.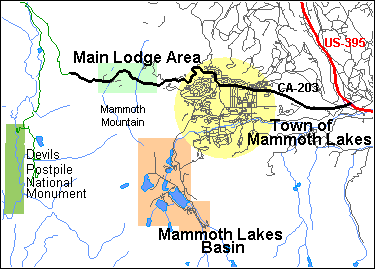 The following sites provide lists of the Mammoth Lakes area's hotels, motels, lodges, inns, bed and breakfasts ("B&B"), cabins, chalets, condominiums ("condos"), hotel condominiums, timeshares, and RV parks:
Here is an alphabetical list of some lodging reservation services that offer to rent condominium ("condo") lodging units, usually in various locations in the Mammoth Lakes and June Lake areas, on behalf of their owners. Most of these services have offices in the center of Mammoth Lakes, on or near Main Street (CA-203).