Other Recreation, Entertainment, and Services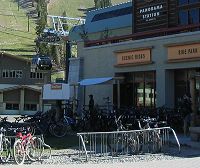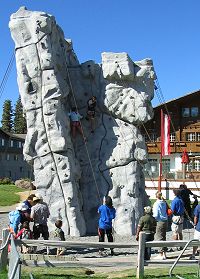 In addition to alpine skiing, camping, and backcountry hiking and backpacking, the Mammoth Lakes area offers arts and galleries, boating, canoeing, climbing, cross-country (nordic) skiing, cultural activities, dog sledding, live entertainment, fall colors, fishing, golf, gondola (aerial tramway) rides, guided tours, horseback riding, hot air ballooning, hot springs soaking, hot tubbing, kayaking, mountain biking, movies, museums, off-road 4WD vehicle use, scenic aircraft flights, skateboarding, snow play, snow tubing, snowmobiling, swimming, and tennis.
The Mammoth Lakes Visitors Bureau has assembed these useful lists:
See more lists of What To Do from the Bureau.
Winter/Spring
See an overview of Winter Activities from the Mammoth Lakes Visitors Bureau.
Cross-country (nordic) skiing:
Dog sledding: Mammoth Dog Teams 760.934.6270
Winter mountaineering and guided backcountry recreation:
Family fun and snow play:

Small World Child Care at Mammoth Mountain Ski Area (indoor or outdoor activities as appropriate for the child)
Sledz 760.934.7533

Activities for dogs: Overview
Snowmobiling:
Snowshoeing: Inyo National Forest
Summer/Autumn
Gondola Rides to Mammoth Mountain's summit 760.934.0606
Guided backcountry recreation:
Parks for picnics, child play areas, restrooms, volleyball, softball, soccer
Activities for dogs: Overview
Autumn
Viewing fall foliage colors in Mammoth Lakes and surrounding areas (Rock Creek Canyon, McGee Creek Canyon, Convict Lake, June Lake Loop, Lee Vining Canyon, Lundy Canyon). Info from Mammoth Lakes Visitors Bureau.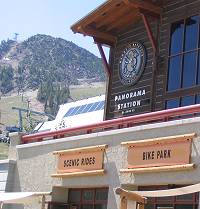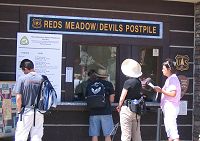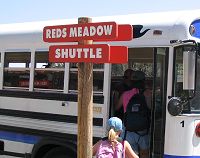 Vehicle use in Reds Meadow Valley, west of the Sierra Crest, is controlled in order to protect natural resources.
Most visitors to Reds Meadow Valley must ride the Reds Meadow Shuttle, and each shuttle passenger must purchase a shuttle pass (as of September 2010, passes for children under age 3 were free). The shuttle travels from the Adventure Center at Mammoth Mountain Main Lodge and serves Agnew Meadows, Devils Postpile National Monument, Rainbow Falls, Reds Meadow Pack Station and Resort, Sotcher and Starkweather Lakes, and all Reds Meadow Valley campgrounds. Dogs on leash are welcome at no additional charge on the shuttle buses. Shuttles depart from the Main Lodge every 20 minutes during peak times and every 30 to 45 minutes during off-peak times. The first shuttle departs the Main Lodge at 7:30 am.
The following vehicles are exceptions and may travel into Reds Meadow Valley: bicycles, vehicles with disability placards or with non-ambulatory persons, vehicles towing horse trailers or other livestock, vehicles with campers staying in developed valley campgrounds, vehicles with pack station resort overnight guests, hunters transporting weapons and large game, vehicles entering the valley before 7:00 am or after 7:00 pm, vehicles carrying inflated float tubes or car top boats, and administrative vehicles. (Backpackers are not excepted and must ride the shuttle bus.) These exceptions must pay a per-vehicle Standard Amenity Fee or use an Interagency Pass to obtain a vehicle pass to cross Minaret Summit.
When purchasing a shuttle pass or paying the Amenity Fee, visitors can choose among a day pass, a three-day pass, and a season pass.
A vehicle pass does not substitute for a shuttle pass, and a shuttle pass does not substitute for a vehicle pass.
Additional information about access across Minaret Summit
Please contact Mammoth Ranger Station for more details.
Live music
High Sierra Rock n' Grill 760.934.7019
La Sierra's Dance Club 760.934.8083
Whiskey Creek 9pm daily 760.934.2555 Map
Movies
Minaret Cinemas and Plaza Theatre 760.934.3131
Sports TV, big screen