Introduction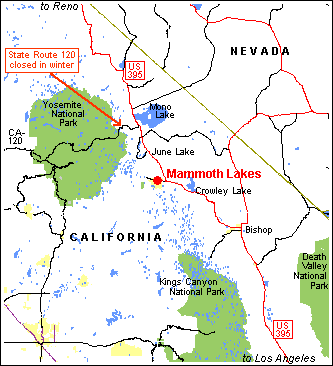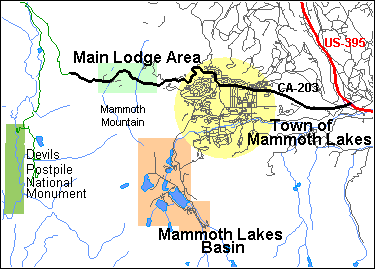 The Mammoth Lakes area is located in east-central California, southeast of Lake Tahoe and east of Yosemite National Park. The town of Mammoth Lakes, including its Old Mammoth section, are reached by road by leaving US-395 at the Mammoth Lakes exit.
The Town of Mammoth Lakes lies at an elevation of about 7900 feet (2400 m) above sea level. As you approach town by climbing westbound on Highway CA-203 from US-395, the Mammoth Lakes Welcome Center and Ranger Station appears on your right. This facility is operated jointly by Inyo National Forest, Sequoia and Kings Canyon National Parks (which administers Devils Postile National Monument), the Eastern Sierra Interpretive Association, and the Town of Mammoth Lakes. It is open daily from 8:00 am to 5:00 pm, and offers information about recreation, lodging, dining, and local services, plus a nature store offering books, maps, guides, and souvenirs. Be sure to pick up the free Visitor Guide, a comprehensive collection of area information in newspaper form.
Mammoth Lakes has two traffic signals on its Main Street, which is Highway CA-203. The first is reached just past the Welcome Center. At this signal, at Old Mammoth Road, the Old Mammoth area is reached by turning left.
At the second signal, CA-203 turns right onto Minaret Road. Making this turn takes you past The Village, a cluster of retail businesses and condominium lodging on your left (parking is on your right). Continuing on and up along CA-203, you will reach the Main Lodge and Mammoth Mountain Inn of Mammoth Mountain Ski Area (MMSA). MMSA has elevations ranging from 7953 feet / 2424 m to 11,053 feet / 3369 m above sea level; the Main Lodge's elevation is about 8900 feet / 2710 m.
Devils Postpile and Reds Meadow are reached during the summer by traveling past Mammoth Mountain Inn and continuing across Minaret Summit (elevation 9200 feet / 2800 m) on the Sierra Crest. Adjacent to Minaret Summit is a viewpoint with excellent views of the Minarets, Mt. Ritter, Banner Peak, and the gorge of the San Joaquin River. Most visitors must make the trip past Minaret Summit by shuttle bus.
If you go straight ahead instead of right at the second traffic signal on Main Street, you travel uphill on Lake Mary Road. After a short block, you reach a traffic signal at Canyon Boulevard. You can turn right here and follow Canyon Boulevard past The Village (on your right) and up to MMSA's Canyon Lodge and its adjacent businesses.
From the junction of Lake Mary Road and Canyon Boulevard, continuing straight ahead on Lake Mary Road takes you through a tunnel under a ski lift and on to Tamarack Lodge and Resort, at Twin Lakes, beyond which point Lake Mary Road is closed to vehicles during the winter and spring. During the summer and fall, continuing upward on Lake Mary Road takes you into Mammoth Lakes Basin. The lakes in this basin that can be reached by public road include Lake Mary, Lake George, Horseshoe Lake, and Lake Mamie. Many other lakes are accessible by trail, but as far as I have found, there is no single lake in the area named "Mammoth Lake".
Maps
The Mammoth Lakes Visitors Bureau provides a detailed town map (Adobe® file, 674 kb).
Travel by auto
The Mammoth Lakes area is easily reached year round via US-395 from Reno, Nevada or from Southern California, via CA-14 from Los Angeles, and via Interstate 80 and US-50 from the east and west (then south on US-395). Except when roads are closed due to snow, it can also be reached from the west via CA-120 through Yosemite National Park over Tioga Pass, via CA-108 over Sonora Pass, and via CA-89 over Monitor Pass. (Because of high elevations, roads that cross passes on the Sierra Crest are often closed for several months during the winter. Tioga Pass is generally open only from late May or early June until early November.)
Notes: The designation "US-395" means the U.S. highway numbered 395. The designation "CA-120" means the California State highway numbered 120. Use of CA-120 over Tioga Pass requires payment of Yosemite National Park's entrance fees or possession of a National Parks entry pass.
Travel by air
Mammoth Yosemite Airport (MMH) lies along US 395 east of the town of Mammoth Lakes. Municipal airports are also located in the towns of Bishop, Bridgeport and Lee Vining.
Reno/Tahoe International Airport (RNO) is the closest airport to the Mammoth Lakes area with all-year commercial service. It is served by about a dozen commercial airlines. Mammoth Lakes is 163 miles (262 km) from the Reno airport, along US-395. Carson Ridgecrest Eastern Sierra Transit (CREST) connects Reno/Tahoe International Airport with Mammoth Lakes by bus (coach) on Mondays, Tuesdays, Thursdays, and Fridays, with one trip each day in each direction.
Travel by bus (coach)
The Eastern Sierra Transit Authority provides scheduled bus (coach) public transit between Reno, Nevada and Mammoth Lakes and between Mammoth Lakes and Lancaster, California. Its routes can be used to create connections to other transit services.
Yosemite Area Rapid Transit System (YARTS) provides summer-only scheduled bus (coach) service between Mammoth Lakes and Yosemite Valley in Yosemite National Park. YARTS also travels between Yosemite Valley and Merced, California, where a rail connection can be made with the San Francisco Bay area through the Central Valley on Amtrak's San Joaquin route.
These tour bus lines provide service between Southern California and Mammoth Lakes; some operate only during the ski season: