Yosemite: An Introduction
Wawona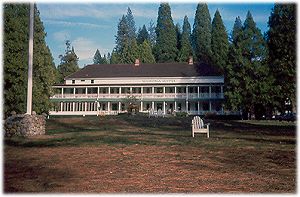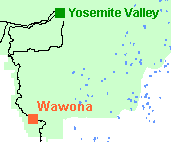 The Wawona area in Yosemite focuses on the park's human history. Wawona was long inhabited by American Indian people before Galen Clark built a wayside hotel there in 1857 for travelers between Yosemite Valley and the town of Mariposa. When Yosemite Valley and the Mariposa Grove were set aside for protection in 1864, Clark became the area's first guardian. In 1875, the original Wawona Road opened and the Washburn brothers bought the area and built the Wawona HotelBig Trees Lodge that is still in operation today. Wawona's Pioneer Yosemite History Center displays relocated historic buildings and horse-drawn coaches. Wawona is near the park's South Entrance Station on the road toward Yosemite Valley. Wawona is at an elevation (altitude) of 4,000 feet (1220m) above sea level, about the same as that of Yosemite Valley.
The visitor activities, facilities, and services available at Wawona are described in the Yosemite Guide and Yosemite: Your Complete Guide to the Park. The National Park Service has a map of Yosemite National Park on its Web site.
Lodging at Wawona
Visitor accommodations inside the park at Wawona are provided by the Wawona HotelBig Trees Lodge. See Lodging within Yosemite National Park for details and reservations. Accommodations are also available at Wawona on private property within the park borders. Nearby lodging is available outside Yosemite National Park's borders.
Camping at Wawona
Camping at Wawona is available all year (reservations required only from May through September, tents and RVs). See Yosemite camping outside the Valley for details and reservations. Nearby camping is also available outside Yosemite National Park.
Continue your introduction to Yosemite National Park: