Lodging near Yosemite National Park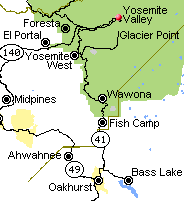 Highway 41 reaches the southern entrance of Yosemite National Park after traveling through the communities of Oakhurst and Fish Camp and near the resort community of Bass Lake. Lodging accommodations along Highway 41 south of the park and inside the park at Wawona are most convenient to Yosemite's Mariposa Grove of giant sequoias and to the Wawona area. Lodging at Yosemite West (just outside the park's western border) is most convenient to Glacier Point and the Badger Pass Ski AreaYosemite Ski and Snowboard Area along the Glacier Point Road, and it is also close to Yosemite Valley through the Wawona Tunnel.
Some lodgings are closer to or farther from Yosemite than the distances shown for their communities. Accommodations in Wawona other than the Wawona HotelBig Trees Lodge are on private property surrounded on all sides by Yosemite National Park. You can get specific information from the lodging providers or their Web sites.
For those who will be contacting lodging providers by telephone, it is currently Wednesday at 11:11 am (Pacific Time) in Yosemite National Park and vicinity.