NBEMS-Local
How to Take the NBEMS-Local Course
Narrow Band Emergency Messaging Software (NBEMS) is an Open Source software suite that allows amateur radio operators to reliably send and receive data using digital techniques. Its core component is the application fldigi (short for fast light digital).
The focus of this NBEMS-Local course is to allow the reader to gain proficiency in the use of the NBEMS applications using FM on the VHF and UHF bands for the purpose of participating in digital nets on those bands.
Other introductions to NBEMS
Please keep in mind that the focus of NBEMS introductory materials that you will find elsewhere may well be different. fldigi and the other NBEMS applications are also widely used for these rather different purposes:
Operating on the HF bands, where propagation phenomena like fade and skip can make even digital reception unreliable
Seeking to make unstructured "ragchew-style" contacts with hams not known in advance by calling CQ or responding to others' CQ calls
Seeking to make contesting contacts with hams not known in advance by calling CQ or responding others' CQ calls
Saving records of on-the-air contacts in a "log" that includes the call sign of the other ham, frequency, operating mode, date, time, and other information
Operating on HF and seeking contacts with others may call for different operating styles than would likely be used on VHF/UHF for checking into a net, and especially to a busy net. Again, this document will focus on exploring skills and techniques that are used on VHF/UHF digital nets, though these skills and techniques are similar on HF digital nets.
A word about requirements
The steps and exercises that follow will teach skills that will be useful to the user of the NBEMS suite, which includes the appications fldigi, flmsg, and flamp. Each step of this course will show, under Requirements, what is expected of you as you begin. In all cases, you will need a "computer", which can be a desktop PC, a laptop, or even a tablet or smartphone, but it must have fldigi installed and running.
This course will focus on mastering basic use of the NBEMS software rather than on "operating" on the Amateur Radio bands. For everything in this course except Step 1.4, "Interfacing your transceiver and fldigi device", it will not be necessary for you to have any of these:
an Amateur Radio license
a transceiver with antenna
cables or devices to connect the transceiver to your "computer"
In this course, you will learn some basic skills and procedures for using the NBEMS software suite, which you can learn and practice without a license or a transceiver. If you are licensed and want to incorporate actual on-the-air operating into this course, so much the better: you should be able to see how to perform the steps outlined here on the air, preferably with a licensed and similarly-equipped nearby friend with whom you can communicate.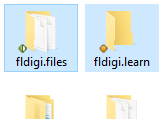 When you install it, the fldigi application will create some subdirectories (folders) on your computer in which it stores and saves files that you can use. Some are templates that you will be using later in this course. Others will be created automatically as you use fldigi. In Windows, installing fldigi and other NBEMS apps will create folders in your User folder. The User folder is named with your login name on the computer you're using and contains your Documents folder and other files personal to you and is located at C:\\Users\your-account\. If you have already installed fldigi, you will see a folder named "fldigi.files" in your User folder. So, to keep things simple, I suggest creating a folder inside your User folder that is named "fldigi.learn" (see illustration at right).
Example: C:\\Users\your-account\fldigi.learn\
It will be your personal workspace for this course, for storing files you create as you use fldigi and related programs and as you proceed through this course. For the rest of this course, we will refer to this folder as "your workspace folder", regardless of where you decide to put it.
If you use some sort of file-backup procedure on your computer, and that's a very good idea, ensure that the following folders are included in your backup:
C:\\Users\your-account\fldigi.files\
C:\\Users\your-account\NBEMS.files\
C:\\Users\your-account\fldigi.learn\ (or other folder that you decide to use as your workspace folder)
This course uses the following method of describing software menus and other configuration choices. (This method describes the Windows interface. The choices available in other operating systems are, I hope, similar.)
"XXX|YYY|ZZZ" means "pull down the XXX menu item from the application toolbar, at the top, and then select the YYY item and, once you have done that, select the ZZZ item". Example: "File|Folders|Fldigi config..."
"XXX~YYY~ZZZ" is used only with the Config dialog box, which is opened by using "Configure|Config dialog", and means "at the left side of the dialog box, press the + sign next to XXX and, once you have done that [this step applies only in some cases: press the + sign next to YYY just below that and, once you have done that], press ZZZ just below that". Examples: "Soundcard~Devices" and "UI~Browser~Colors"
Table of Contents
Section 1: fldigi
Section 2: flmsg
Section 3: flamp
John Rabold KS6M