Lodging near Yosemite National Park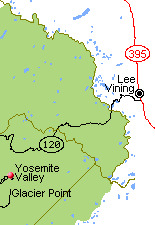 Lodging accommodations in the vicinity of Lee Vining, east of Yosemite, are convenient for summer and early fall visitors who wish to explore Tuolumne Meadows, Tioga Pass, and the nearby high country. From your lodgings, travel west on the Tioga Road (CA-120) over Tioga Pass. The Tioga Road is closed to vehicle traffic in winter: it generally closes at the first significant snowfall after October 31 and generally does not reopen until late May of the following year, or later after a heavy snow season. The Tioga Road can be used for cross-country (nordic) ski and snowshoe access to the high country during the winter.
Some lodgings are closer to or farther from Yosemite than the distances shown for their communities. You can get specific information from the lodging providers or their Web sites.
For those who will be contacting lodging providers by telephone, it is currently Wednesday at 10:14 am (Pacific Time) in Yosemite National Park and vicinity.