Lodging near Yosemite National Park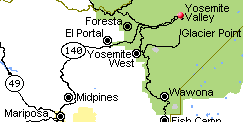 Highway 140 approaches Yosemite National Park from the city of Merced and travels eastward through Mariposa, Midpines, and up the canyon of the Merced River through El Portal. It enters Yosemite National Park at the Arch Rock entrance and directly into the west end of Yosemite Valley.
Some lodgings are closer to or farther from Yosemite than the distances shown for their communities. You can get specific information from the lodging providers or their Web sites.
For those who will be contacting lodging providers by telephone, it is currently Wednesday at 9:56 am (Pacific Time) in Yosemite National Park and vicinity.