Lodging near Yosemite National Park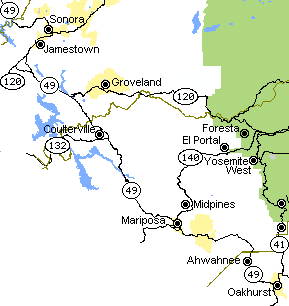 Highway 49 traverses Sierra foothill country that was mined for gold during the California Gold Rush that began in 1849. This highway remains to the west of Yosemite and below it in elevation. Yosemite visitors lodging along Highway 49 can reach Yosemite via Highways 41, 120, or 140.
Some lodgings are closer to or farther from Yosemite than the distances shown for their communities. You can get specific information from the lodging providers or their Web sites.
For those who will be contacting lodging providers by telephone, it is currently Wednesday at 10:31 am (Pacific Time) in Yosemite National Park and vicinity.